Beef pochero is one of the varieties of pochero. The original pochero
recipe use pork as the main ingredient and it is one of the well known
Filipino dishes. Although beef pochero also use the rest of the
ingredients as the original pochero, there are also variation of how the
saba bananas or plantain bananas are prepared. Some recipes fry the
bananas first before adding in the dish but some just throw in the raw
bananas in the pot while cooking.
Ingredients:
1 kilo Beef, slice into bite size pieces
1 small pack tomato sauce (about 1/2 cup)
1/2 small cabbage, quartered
1 bunch pechay
100 grams baguio beans
5 pcs bananas (saba variety), sliced into 2 pcs each
2 pcs medium size sweet potato (kamote) or potatoes, quartered
1 medium onion, chopped
1/2 head garlic, crushed
salt and pepper
sugar
How to cook beef pochero:
Boil the beef in a pot with water, salt and pepper until tender.
You can use a pressure cooker to speed up the cooking time.
In a deep pan, heat oil and saute garlic and onion.
Put the boiled beef and include about 1 to 1 & 1/2 cups of the broth.
Then add the bananas and sweet potatoes, cover and simmer at least 5 minutes.
Then add the tomato sauce and cover again an simmer or a few minutes.
Add the baguio beans and let it cook for a while then follow the cabbage and pechay.
Season with salt, pepper and sugar according to your preferred taste.
Serve hot.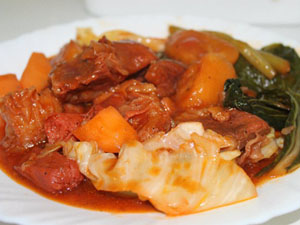 | Panlasang Pinoy Meat Recipes